Who can have a brow lift operation?
Brow lift operation is usually performed on men and women over 40 years of age, who have a problem of sagging skin in their forehead and eyebrow regions.
Slackening and sagging begin to appear, and the existing lines get deeper in the forehead region, in proportion to aging. Under these circumstances, the eyebrows descend, causing a tired facial expression. With the inclusion of malnutrition, smoking, irregular lifestyle, stress, air pollution, and inadequate skin care, this process gains speed.
In brow lift surgery, the lines in the forehead region are minimized. Eyebrows dropping over the eyes are lifted and positioned properly in the face. As a result of this operation, the person is enabled to look more vibrant, and most of the lines around the eyes are eliminated. In case of excessive sagging that requires skin removal, the traditional forehead lift procedure is performed. The traditional forehead lift procedure leaves a 4-5 cm crown-shaped scar at the hairline, which is then concealed under the scalp.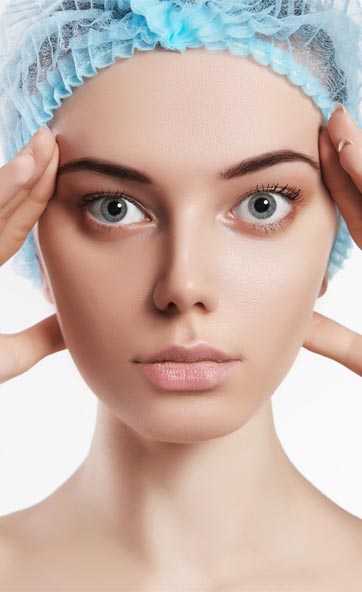 Are the results of brow lift surgery permanent?
Since the shape newly given to the forehead and eyebrows will be affected by the gravitation, it lasts for a period of 5-10 years and sometimes lasts a whole lifetime, depending on the structure of the individual. For prolonging the effects of such operations, it is necessary to avoid smoking, irregular life and stress that cause the skin to wear away.
What are experienced after the surgery?
The procedure takes about 1.5 to 2 hours, and the patient can be discharged the same day.
The early postoperative period is generally experienced comfortably.
There may be a general swelling and bruising on the forehead and around the eyes.
There may be a feeling of numbness and stretching. These problems disappear within about 2 weeks. - The bandage can be removed and the hair can be washed 2 days after surgery.
The sutures are removed 5-7 days after surgery.
The person can return back to work and apply make-up 2 week after the surgery.
The patient is advised to avoid vigorous exercises and exposure to sunlight, as well as external mechanical impacts for 2 months.